...ahhhh. Nothin' like a little bit of the Bangles to get your week off to a good start :) (If you don't know what I'm talking about, wikipedia The Bangles and/or download Manic Monday. And Eternal Flame. And Walk Like an Egyptian. Good stuff)
So, normally Mondays are all blahhhh and stuff, but today was actually pretty awesome. First of all, I slept in. SCORE! And then I finished watching what I DVRed of the Tony Awards. (I love me some Neil Patrick Harris. We go wayyyy back, seriously.) Then, I got the mail and saw this:
The invite to my first bridal shower, hosted by Josh's sister and mom! It's a recipe shower, so the invite also contained a recipe card so people can give me some of their favorite recipes!
Then, I got a phone call. My bridesmaids' dresses came in! Within 3 hours, I was there with Josh's sister in tow. The dresses are even more beautiful than I remembered. It's so hard to envision a whole dress in one color when all you can see is a small swatch! Here are a few pictures of my sister and Josh's sister, modeling the dresses in front of some of Josh's mom's gorgeous flowers!
My sister, Lindsey, even brought over her accessories over to see how they look with the dress. I LOVE the peacock feather earrings! And the colors in the bracelet are perfect. I'm excited to see what accessories my other girls come up with.
Lindsey and Ashley even got matching shoes! The gunmetal color looks perfect with the color of the dresses.
And of course, it's Mingle Monday over at
Life of Meg!
I found a few new blogs to follow, which I always love!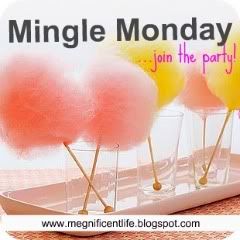 So, how was your Monday?